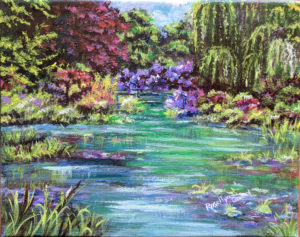 Do you know… …Rosellyn Grohol?
Rosellyn Grohol began painting at the age of ten (10), under the supervision of local Italian artist Luis Zabgara-Cellini. She studied traditional impressionist oil painting with Cellini for 5 years and continued on to art school for another 2 years.
Rosellyn raised a family and began painting again in 2015 when she moved to NEPA and took a quick course in acrylic painting. Because acrylic paints dry so quickly – unlike oils, Rosellyn began painting non-stop.
Rosellyn is a contemporary impressionist and favors painting nature scenes inspired by places she's been or places she would like to visit. She loves to portray nature's moods, colors and movement with paint on canvas or her new love, alcohol ink on tiles! The vivid colors that are in her work literally pops off the canvas!
Rosellyn's work is available for sale at The Art Factory of White Mills. Her pieces are very reasonably priced, beginning at $20.00 and up. Come in and see Rosellyn's work in person!