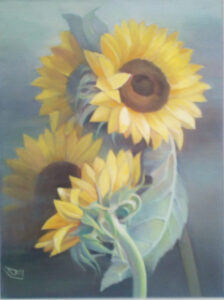 Do You Know… … Bozena Janszweski?
Bozena was born in Poland.  She now resides in Honesdale, PA.  From her early childhood, Bozena has loved to observe nature and paint what she sees.  While she did study art in high school, she received her Bachelors in education.  As an Elementary Ed teacher, she has encouraged a number of her students to continue in the field.  Bozena now has students that she taught holding Art degrees!
Art is important in her mind and her life.  Bozena admires God's creations around her.  She believes that her creations are only a humble copying of His art!
While Bozena loves to change techniques and objects, she favors oil painting.  She uses this medium to paint "still life", portraits and occasionally uses pastels for surrealistic compositions.
Bozena favors Daniel Keys and Konstantin Kacev's art.  In addition to painting, Bozena enjoys gardening, history, pottery and traveling.
Bozena offers classes and workshops (drawing, painting and pottery) at The Art Factory.  Her beautiful and unique pottery begins at $30.00.  Come see, at The Art Factory of White Mills.