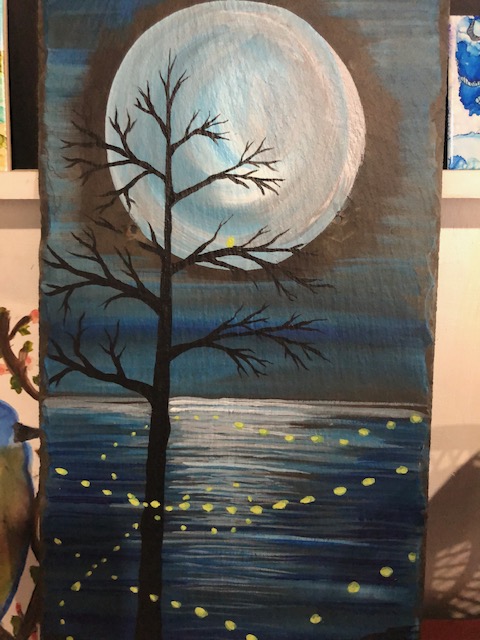 "Paint and Sip on Slate" with Arielle Sekula
Date and Time
11/06/2020 5:00 PM
11/06/2020 7:00 PM
Booking Starts
10/04/2020 12:00 PM
Booking Ends
11/05/2020 12:00 PM
More Information
Note
Following COVID guidelines, we are limiting the number of students that we enroll for each class, socially spreading out and requiring that masks be worn.nnPlease arrive on-time for this session. Thank you!
Event Details
Join us for this fun evening workshop... "Paint and Sip" on Slate with artist, Arielle Sekula.
BYOB and sign up a friend or two for a fun time!!!
In this class you will paint a beautiful scene onto slate. The finished piece (which goes home with you that night) can be hung as a sign outside or as a painting for inside.
There is no experience needed, just the willingness to share a good time!
The fee is $35.00 (all materials included).
Preregistration is required @TheArtFactoryofWhiteMills.com
Please include your cell # and email address on the application.
There are no cancellations or refunds, unless we need to cancel the class.
Contact
Phone: 570 251-1181
E-Mail Address: info@theartfactoryofwhitemills.com
Mailing Address: The Art Factory of White Mills, PO Box 324, White Mills, PA 18473
Physical Address: The Art Factory of White Mills, 736 Texas Palmyra Highway (Route 6), White Mills, PA 18473
Hours
January – April: Open 10–4:00, Closed Wednesdays
---
May–December: Open 10–5:00, Open Daily